For three years, every time I opened my mouth—to talk, to chew, to yawn—my jaw slightly slipped out of place. It was more uncomfortable than painful, though occasionally, for a few terrifying seconds at a time, it would lock open. My dentist did little more than shrug. Weekly chiropractic sessions seemed promising at first, then stagnated in effectiveness until one day my chiropractor asked, "How do you feel about hickies?"
She wasn't kidding. After scraping my neck with a foreign-to-me tool, I walked out with hickies and immediate jaw relief. That was my introduction to gua sha, a traditional East Asian practice, first referred to in a classical Chinese medicine text dated 220 CE, that relieves congestion in muscle tissue by applying pressure with long, sweeping movements of a tool, often made out of jade or rose quartz.
After scraping my neck with a foreign-to-me tool, I walked out with hickies and immediate jaw relief.
My jaw migrated into its proper place for the first time in years, and my obsession with gua sha began. My jawline appeared more defined. The tension in my neck melted away. Even puffy eyes after a night of one-too-many glasses of Chenin Blanc were calmed with a few swipes of a gua sha tool. And while gua sha can cause mild bruising and redness, the hickies were a one-time-only occurrence for me.
The benefits of a gua sha practice are nearly endless, but all revolve around increasing circulation, improving lymphatic function, and moving stagnation in the body to open up channels and flow.
Giselle Wasfie, owner of REMIX Acupuncture + Integrative Health in Chicago, shares in my adoration of gua sha. Wasfie has a laughably long list of acronyms after her name—L.Ac., Dipl. OM, MSTOM, and DACM—and her credentials are even more impressive. Here are the highlights: Wasfie received her masters of science and doctorate in traditional Chinese medicine, she's a nationally board-certified acupuncturist and herbalist (NCCAOM) in three states, she's certified in reiki and facial rejuvenation, and is trained in auricular acupuncture, cupping therapy, moxibustion, tui na, the meditative arts of Qi Gong and Tai Chi, and yes, gua sha.
"I do gua sha five minutes every day before I put my makeup on," says Wasfie. "It helps with grogginess, depuffing, allergies, sculpting, and provides a soothing self-care massage."
In 2012, Wasfie took her bounty of natural health knowledge and started her own Chicago-based private practice, followed by a line of Chinese herbal-based beauty and aromatherapy products in 2013, including gua sha tools for both the face and the body. "I do gua sha five minutes every day before I put my makeup on," says Wasfie. "It helps with grogginess, depuffing, allergies, sculpting, and provides a soothing self-care massage."
Here, Wasfie helps us break down the benefits of gua sha, what to expect, and what you should look for in a gua sha tool so you can start your own gua sha journey.
Reduces puffiness.
"Decreasing puffiness in the face is a great benefit of gua sha, which makes it perfect for a morning after drinking or hangovers," says Wasfie. For added relief, pop your gua sha tool in the fridge for a few minutes before massaging.
Will make you pee more.
Since you're draining fluid in your face and body, you'll visit the bathroom more often. Consider this a good thing.
Relieves jaw muscle tension and headaches.
"Dentists do not have many resources for TMJ (temporomandibular joint dysfunction), but gua sha in the right areas has been proven to help release long-held tension in the face, head, jaw, and neck," says Wasfie.
Promotes smoother skin.
Improved blood flow to the face = smoother skin. Just be mindful not to apply too much pressure and to use an oil so the tool glides over the skin, instead of pulling and tugging on it.
Reduces perimenopause symptoms
Studies have found that women's perimenopause symptoms, such as sweating, insomnia, and headaches, were reduced after gua sha treatments.
Breaks up cellulite.
"Running the tools around areas with cellulite will help break the fascial adhesions and increase blood flow in the skin so that more nutrients can enter and waste can leave, thus helping fight cellulite," says Wasfie.
Encourages eyebrow growth.
If you're living through the consequences of skinny early 2000s eyebrows, you're in luck: By improving blood flow to the face, gua sha stimulates hair growth.
Establishes a meditative morning practice. "The actual act of sweeping the gua sha can be soothing and meditative," says Wasfie, which makes for a zen morning ritual that can lead to increased tranquility, positivity, and focus, as well as enhanced immunity and pain relief.
Massages your third eye.
Focus your gua sha tool on the area between your eyebrows for a third eye massage. "Add pressure with the tool to release melatonin from the pineal gland, which leads to better sleep and reduced anxiety," says Wasfie.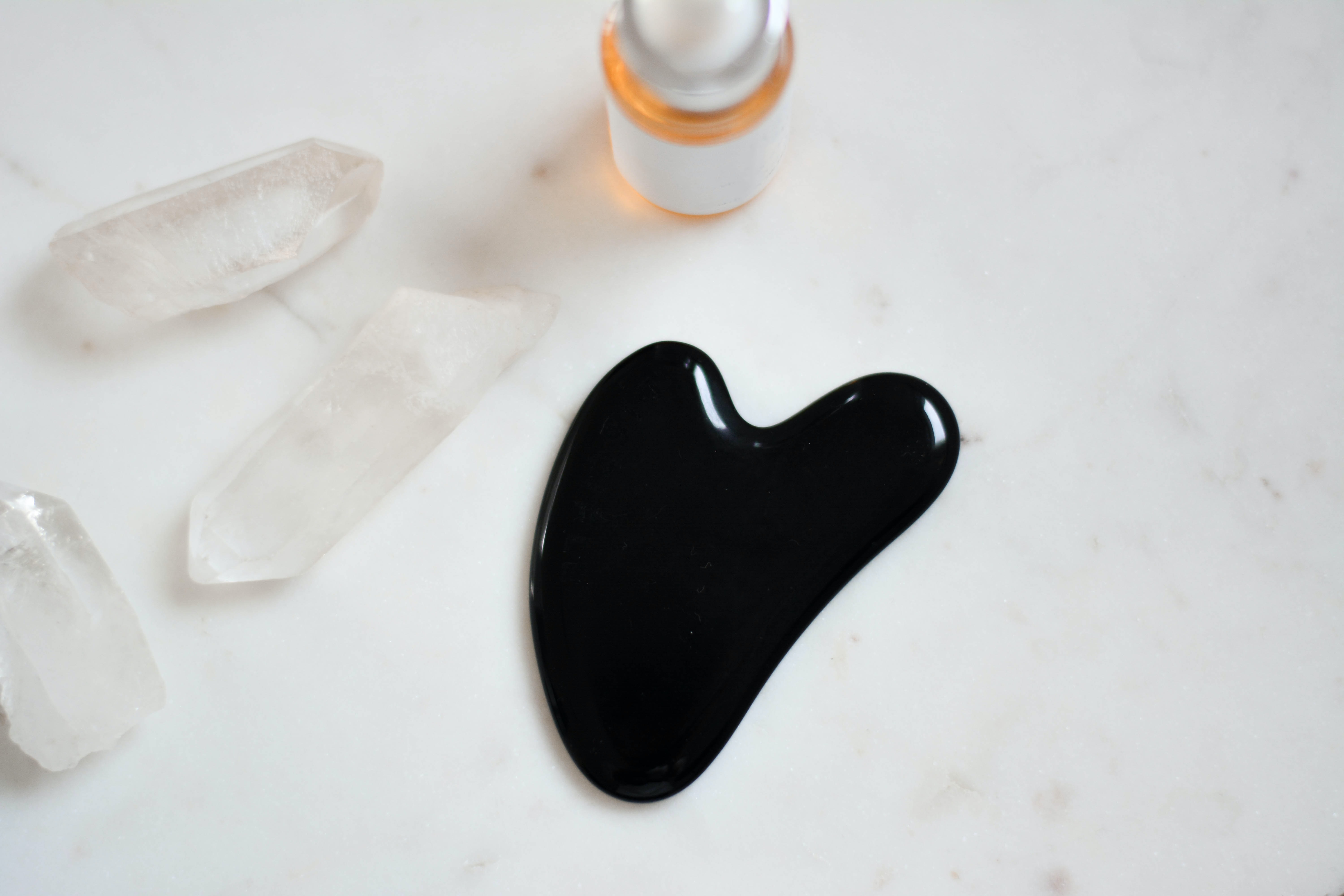 What To Look For In A Gua Sha Tool

"Not all gua sha tools are made equally," says Wasfie. First, select a gua sha tool made from a natural stone that has insulation around it. That'll give it a smoother texture. Natural stones are also cool at room temperature, so when you glide the tool across your face or body, it will pull the heat from the skin.
The shape of a gua sha tool is equally as important, as it determines its effectiveness moving around the face and sculpting specific angles. A wing shaped tool—one with three small arches at the end that resembles a comb–is ideal for the chin, jawline, and forehead, and can target smaller facial areas. A dolphin-shaped tool (one of the most popular) is optimal for the face, neck, and shoulders. The divot on the modified edge reaches underneath the eyes, along the cheekbones, and up the jawline. An s-shaped tool can be used to penetrate denser parts of the body like the glutes and thighs, hands, feet, back, neck, and shoulders.
Not sure how to properly use your gua sha tool? Check out Wasfie's tutorials for everything from bloating to allergies.
The Takeaway
With just five minutes each day, the centuries-old practice of a gua sha allows you to massage your way to smoother skin and reduced muscle pain, amongst the many other benefits.
The hickies are worth it, promise.