For many people, January provides an opportunity to slow down and repattern. Some feel a need to recover from holiday hedonism by observing Dry January—a ritual with documented health benefits—while for others this is a prime moment to slow down and settle into winter, spending less time socializing and more time indulging one's inner introvert. Whatever the reason, optimizing the way we nourish ourselves is a key component to allowing our bodies and minds to rest and reset. Here are a few palate pleasing elixirs that also support the nervous system through active, stress-reducing ingredients.

Breathe Better Mocktail by WellSet contributor Alison Lancaster Beckner
I live in the high desert and have a lung-opening beverage that I love to make for breathwork clients, especially ones who are struggling with the altitude or doing mountain activities. It consists of one dropper of chlorophyll, combined with mint or food grade mint essential oil, in filtered water, sparkling water or coconut water. According to Ayurvedic medicine, mint helps reduce stress and induce a state of calm. It has cooling effects that relax the body internally, and the menthol in acts as a decongestant, expels mucus in the lungs and relieves congestion. Additionally, chlorophyll helps with oxygen absorption by increasing the amount of red blood cells in your system. It's extremely dry here and easy to get dehydrated, so when this beverage is made with coconut water, there is the additional benefit of electrolytes.

Relax & Restore Elixir by Bianca Correa of Mythos Libations
"Integrating herbs into our everyday rituals is an immensely beneficial way to support and nourish our nervous systems during times of heightened stress. This particular elixir contains tulsi, also known as holy basil, an adaptogenic nervine that soothes the nervous system by combatting stress-related illnesses. The addition of lemon balm—another nervine believed to have anti-depressant benefits—assists with stress due to its uplifting and calming effects. Rosehip has been used for centuries as an aphrodisiac. I love including this ingredient for its emotional and physical heart-mending qualities and to support a nervous heart. Milky oats are a trophorestorative that I have added for their deeply nourishing effect on the chronically burdened nervous system—they literally revitalize the nervous system. Lastly, chamomile is a mild sedative with a relaxing, tension-relieving, and calming embrace." Get your daily calm in a cup with the following elixir below:
INGREDIENTS
1 cup of Tulsi
1/2 cup of lemon balm
1/4 cup of rosehips
1/2 cup of milk oats
1/4 cup of chamomile

DIRECTIONS
Mix dried herbs together in a bowl. Store in sealed container. Use 1 tablespoon per cup of hot water. Allow to steep for 20 minutes for a stronger nutrient extraction. Teas will keep up to 6 months in a sealed container.

VARIATIONS: add lemon, tincture of blue vervain, and honey to each cup. You can also add milk, juice, or powdered herbs to the blend.

Matcha Coconut Water Elixir by chef Ana Ortiz
Ortiz, who works for private clients in New York, Los Angeles and Puerto Rico, shares that her favorite way to calm down is by cooling off. Try, for example, a matcha coconut water elixir. "It's so easy to make: just whisk a 2 oz of chilled coconut water into 1 generous spoon of matcha, then add another 6 ounces of coconut water and shake or blend. I particularly love it as the sweetness of the coconut water balances the slightly bitter and umami taste of the matcha perfectly."

Though it does contain some caffeine—or "theine" as it's called by the French and many tea purists—tea is known to be less stimulating than coffee. Additionally, matcha is high in antioxidants, boosts brain function, helps keep the heart healthy by reducing LDL ("bad") cholesterol and may even help protect the liver. Combine that with hydrating, anti-oxidant, nutrient-rich coconut water and you'll be refreshed and reset in no time.

Beet Root Latte by chef Sara Thompson
New Mexico-based designer, event curator and chef Sara Thompson shares a creamy and delectable coffee concoction that she developed as part of her catering collective, Cauldrons & Crossroads. "I was experimenting with coffee alternatives that could also alleviate moon cycle symptoms, and of all the superfood powders that I have tried, I found beet root powder to be the most grounding. Beets contain the chemical betaine anhydrous and the amino acid tryptophan, both shown to be mood enhancers. They are also a great liver detoxifier, and can lower blood pressure and increase circulation. Additionally, for those of us with uteruses, beets help with menstrual cramps, support healthy hair and skin, and increase libido. The maca in this recipe plays an active role as well. Like beets, it's high in antioxidants. Additionally, it increases positive mood, boosts memory, and provides jitter-free energy. Last but not least, the Lion's Mane boosts brain cognition, and is believed to help with anxiety, depression and so much more. While the cordyceps deliver power and stamina, are anti-inflammatory and support a healthy heart."

DIRECTIONS
Heat 1 cup of water for your tea of choice, steep tea and set aside. I use Earl Grey, but you can also use an herbal option like lavender or chamomile to keep it caffeine-free.

Combine the following dry ingredients in a pot or carafe:
1 - 2 tsp of Beet Root Powder (depending on how you like the beet flavor)
1 - 2 tsp Maca Powder
1 tsp Lion's Mane Mushroom Powder
1 tsp Cordyceps Mushroom Powder

Add 1/2 - 2/3 cup of the plant-based milk of your choice. I use pistachio milk but oat milk works well too. You can either heat the milk in a separate pot and then add it to a carafe or just throw everything in a pot together and heat on low/medium. If you have a handheld milk frother, break it out and blend.

VARIATIONS: The beverage is great like this, but you can also play around with adding other flavors you enjoy. Here are some of my favorites:
1 tsp of Vanilla Extract
1-2 tsp of Maple Syrup or Local Honey (I prefer honey for the health benefits)
1-3 tsp MTC Oil (depending on how your body handles MTC Oil, I use 2 tsp)
1 tsp of Dried Raspberry Powder
Rose petals
Zen Spritz by WellSet contributor Alison Lancaster Beckner
As you can see from these recipes, herbs can be helpful for alleviating anxiety and stress. Think: chamomile, valerian, lemon balm and lavender. Muddle together in very hot water 1 tablespoon of dried lavender, 1 teaspoon of maple syrup (optional) and 1 drop of doTERRA Citrus Bloom (or just add a mixture of dried herbs as above). Let it sit for a few minutes or until I you're ready to serve it, then top with sparkling water and crushed ice. The combo is both soothing and uplighting. Would it be good with vodka? Asking for a friend.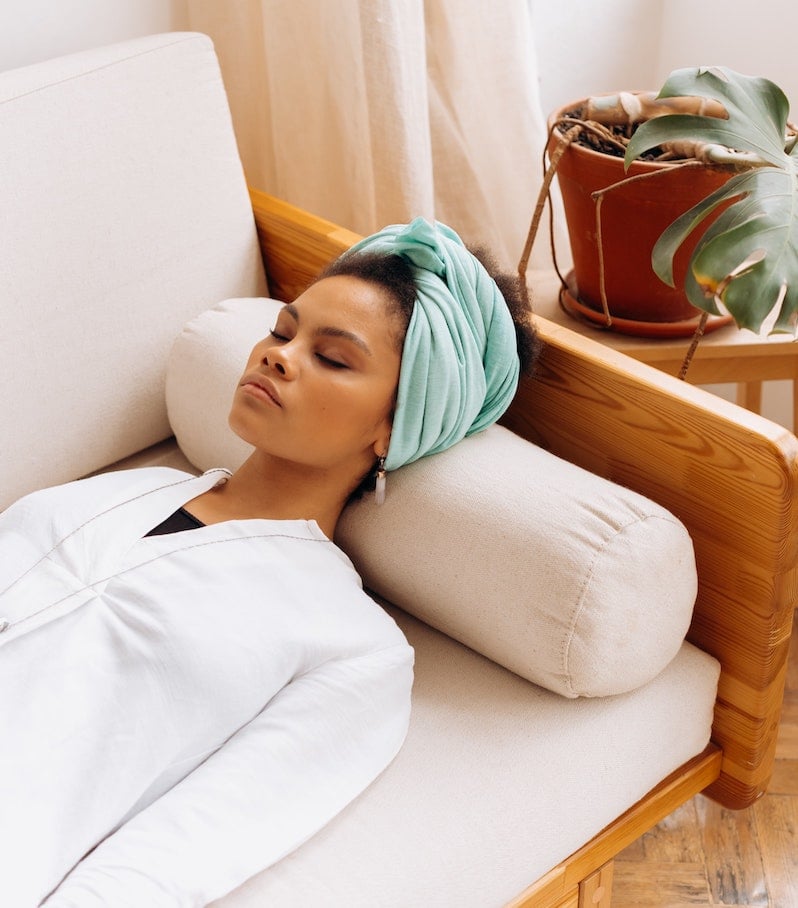 Meet the first digital holistic health studio
Access thousands of live and on-demand classes for mind, body, and emotional wellbeing with a WellSet membership.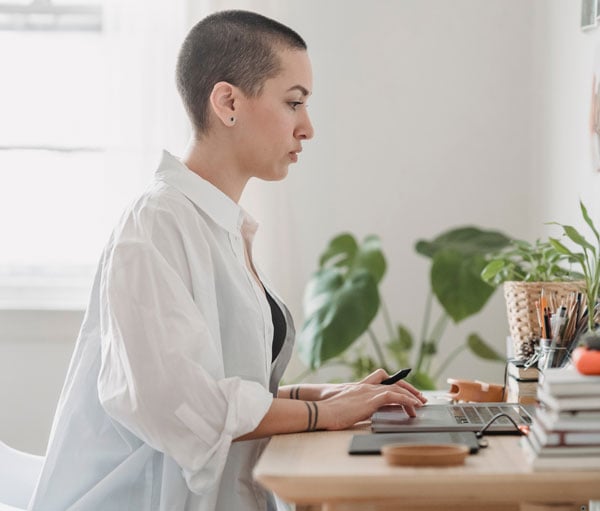 Support your team's wellbeing with WellSet
Bring WellSet to your workplace and decrease employee burnout with the first digital holistic solution backed by insurers.